There were so many options for the letter F: Favorite projects, Family, Fails, or even Food. But somehow features seemed like the best option for variety's sake.
My first time being featured was by Sarah at
The Pumpkin Patch
. She loved
my tip for keeping your razors sharp
. It's still one of my favorite tips. If you weren't following me back then (uh...who am I kidding, there was barely ANYone back then!), go check it out.
Next, Nicolette at
Momnivore's Dilemma
featured my sister's Christmas gift necklace.
My tiny Christmas Wreath was posted on
All Free Christmas Crafts
.
Then I had a very exciting streak of projects that were featured.
Krafty Kat
,
House of Hepworths
, and
Little Eme
.
This week, I was featured at the fun Yarn It All Linky Party hosted by Kimberly from
bugaboo, mini, mr & me
and Mandy from
Mandipidy
.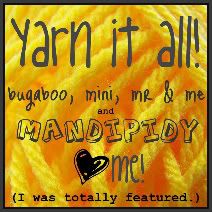 Kimberly was a fan of my Pirate Hat (above), and Mandy loved my
frog puppet washcloth
.
Much more fun to look at Features than Fails, right?
Oh, and tomorrow is G... Hmmm...what could I think of with G? =D